Solid State Pharma
Website Design
Where human ingenuity meets science and passion.
Solid State Pharma was founded in 2014 on the basis of human ingenuity. Based in Halifax NS, SSPI specializes in both early and late stage pharmaceutical development. They believe that science has a duty to benefit humanity and they apply their knowledge and the latest technology to help their clients develop pharmaceutical products that will improve the lives of patients.
Collaboration
The company was growing quickly and required a fresh new brand identity to match the excellence and quality of their company. Through thoughtful creative research we established a new company brand.
Carrying on from that success we worked with SSPI to develop a new online web presence. The company had a big corporate move and required the site to be launched for the announcement and opening of their new waterfront office space. The company brand is well used in the design of the new space. Our team met with SSPI on a regular basis throughout the project to provide updates and receive feedback from the client. We always left these meetings with valuable insight on how to improve the project.
Our Solution
The result was a clean moden new brand with a cutting edge, user friendly website the client can easily maintain using a simple yet robust content management system.
This collaboration led to the successful launch of Solid State Pharma's new presence on the web they could share with their customers as a new and exciting direction for the growing company.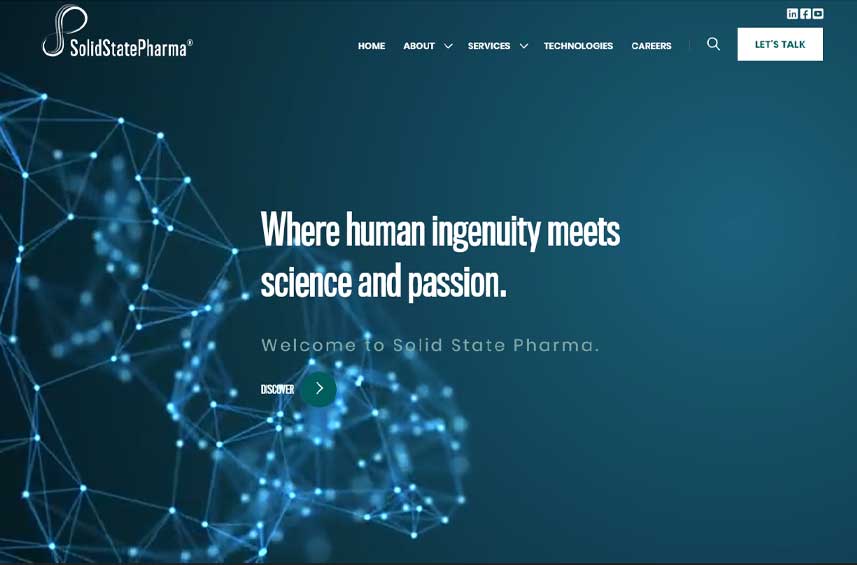 VISIT PROJECT