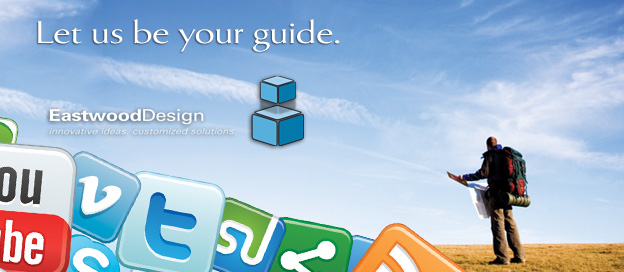 Custom Website and Graphic Design and Website Hosting located in Halifax Nova Scotia Canada

Eastwood Design has been helping companies large and small since 2001 from all over the globe including Canada, USA, England and Africa.
While many companies try and impress potential customers by proclaiming how big they are, we are proud to admit: we're a small company. We have a first-hand perspective on the needs of small business operators and how to leverage the potential of the Internet to make their businesses flourish in ways that were not possible just a few years ago.
We're also able to offer flexible, personalized support for our hosting services - if your website requires a particular capability that's not included in one of our hosting plans, we'll do our best to try and accommodate your needs. And unlike many other small hosting companies, we are able to offer the highest levels of performance and reliability at competitive prices.
Eastwood Design provides secure, accessible, manageable hosting solutions to the Web industry. We offer managed hosting solutions and a broad range of applications. Located in Halifax, NS. We are here to provide complete design, maintenance, and secure hosting services. Immediate accessibility for our customers is our goal. You get access to your site instantly and easily. We provide you the essential flexibility you need to access your site, you can update and change your site whenever you want! We can provide you with the resources you need to succeed.

Feel free to contact us about our company and our services - we'd love to hear any comments or questions you may have, whether you're a current customer or not.
If you are interested in having us design a custom website for you contact us today.
Find out more about us:

Peter Eastwood
I'm married, and a dad to 3 wonderful children ages 15, 13 and 10. Ethan (15) loves math and competes regularly in national and international math competitions. Ezra (13) competes at a provincial level in track & field and cross country. Ellie (10) plays the viola with the MCPA Chamber Orchestra. In my spare time I run a small batch pottery. Eastwood Pottery producing beautiful hand crafted porcelain ceramics.
Contact me today.

About Me
I grew up in Moncton NB and left in the early 90's to attend NSCAD University in Halifax Nova Scotia. After graduating from NSCAD I worked in the Continuing Education Dept for almost 10 years before leaving to work on Eastwood Design full time. I enjoy all aspects of web development from research, development, creative, client relationship and support and management. The internet is always changing which I enjoy as it is always a challenge and joy to learn new things that I can bring to my clients to help leverage their business.